Live Placement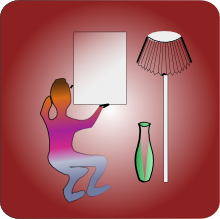 Using "Live Placement" you can use your mobile as a pair of glasses to see if a design will work. Where does that painting, vase or flower fit the surroundings?
The object you would like to test is added to the preview from your camera. For you to get the correct proportions you scale the image according to a referenceobject's width or height.
Features
Preview artifacts in another environment
Easily scale using the two-fingers-grip to get the correct proportions
Investigate combinations of artifacts simultaneously
Includes a simple API for websites wishing users to be able utilize this tool
Ad-free and free of charge application
To try this app - click a button below.
Demo
Specifics
Requires Android 2.3 or later.
You need internet to download the images but during placement there is no need for network connectivity.
The tool will use the large screen if you have a tablet.
Can be installed to external storage
Known installations
Google Play and the Google Play logo are trademarks of Google LLC